Installations Video Audio CDs Bioacoustic Research Exhibition Links CV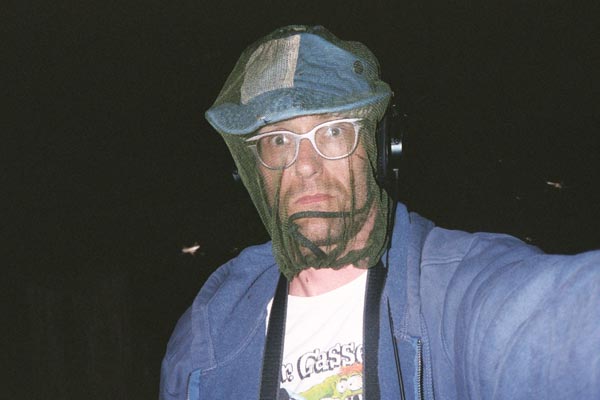 Enjoying the company of my mosquito friends while recording in the Boundary Waters. July, 2002.
For several years I have been recording animals and other natural phenomena in the field. Here are some examples:
A colony of Dermestid flesh-eating beetles diligently clean mouse and bird carcasses at the Field Museum of Natural History. (1 MB)
Some ants recorded at Kohler/Andrae State Park, Wisconsin. (3.2 MB)
A very hungry young Yellow-Bellied Sapsucker, whose parents were concerned about my microphone being too close to the nest. (1 MB)
Sheep grazing at the farm of my friends Bruce and Lyvia Renner, in Dodgeville, Wisconsin. (4.7 MB)
At Isla Contoy Bird Sanctuary in Mexico, I spotted about a hundred or so hermit crabs at the base of a palm tree. I didn't know that they vocalised until I made this recording. (1.9 MB)
Return to "gosh yes"